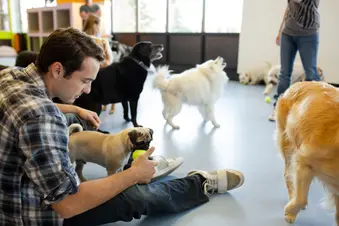 Maybe your dog acts bored hanging out while you work from home. Or maybe you're gone for hours and don't want to leave them alone. The American Kennel Club (AKC) says your dog shouldn't be alone more than 6 to 8 hours a day without human company.
Doggie day care may be a good option for you and your pup. It gives them a chance to interact and play with other dogs and people. That can help prevent separation anxiety. It also gives them exercise and mental stimulation.
But is your dog cut out for all that activity? And how do you find the perfect place?
Will Your Dog Like Day Care?
You know your pup and their personality. Do they love meeting new friends at the dog park? Are they happy when you run into other dogs and people on a walk? If your dog loves playing with other dogs and has been socialized with lots of pups and people, there's a good chance they'll like day care. 
It can be great for energetic dogs who do well with lots of running and playtime. It's designed for dogs who like other dogs as well as mental and physical activity.
Dogs are usually very social animals. But how much time they like to spend with other dogs or people can depend on lots of things, like their age, breed, and health.
Some dogs don't like other dogs or have the energy or tolerance for group play. Day care may not be a good option for them. It's likely not a good option for dogs that "resource guard," or protect their toys, food, or people by growling.
Most day cares and boarding facilities require a temperament test before your dog can stay there. That usually involves introducing them to people and other dogs to make sure they're friendly with both. Workers will look to see if your dog is stressed or scared while they're there.
Some dogs want to play right away while others might be stressed by the other dogs or the loud environment. You should be able to tell pretty quickly if your dog is happy or unhappy in a day care situation.
Choosing a Doggie Day Care or Boarding Kennel
Make sure the place you choose for your dog is a good fit. It should be safe and there should be a good team.
Start by asking your veterinarian, groomer, friends, and family about any facilities they recommend. Ask them what they liked and what kind of experiences their dogs had.
When you have a few possible places on your list, call and ask questions like:
Can I stop by anytime for a visit so I can see the day care on a normal day?

Do they require all dogs to be up-to-date on vaccinations and on flea/tick control? Which vaccinations do they require? Is there a required waiting time after your dog gets those? 

How many dogs play together at any one time? Are they separated by size?

Are there both indoor and outdoor play areas in case the weather is bad?

What training do staff members have? (They should be trained to understand dog body language.) Do they all know first aid? 

What's the staff-to-dog ratio? Watching too many dogs at once is hard for both dogs and people. Some organizations recommend a maximum of 15 dogs per staff member.

Are there webcams so I can check on my dog?

What happens if my dog gets sick or hurt? Which vet do they use?

Ask about pricing and when dogs can be dropped off and picked up. Are there additional fees if you're late? What's the cancellation policy? 
Many day care facilities also offer dog boarding for overnight stays. If you think you might use that service, ask some extra questions:
Can I bring bedding, toys, and food from home? If I don't bring my dog's food, what food will they be fed at day care?

How often are dogs alone and how often can they play in a group?

Where do they sleep? How big is their run or kennel?

Does a staff member spend the night at the facility?

Do rates include extras like giving medicine, baths, playtime, or walks?
Visiting a Dog Day Care or Boarding Facility
Once a place sounds promising, go see it in person. Look around to see where the dogs play, where they sleep, and meet some of the workers. Look for some things like:
Does it smell clean or does it smell like deodorizers are covering up odors? Cleanliness and good ventilation are important so diseases don't spread.

Do fences and crates look secure? Are there any gaps in fences or gates where my dog could escape or get hurt? Are there rusty spots or rough edges? Are there objects by the fence that my dog might climb on and then jump over the fence to escape?

How do employees act with dogs? Are they loving and playful?

Is there fresh water available at all times and in many places? 

Is poop cleaned up quickly?

Is there a quiet spot where dogs can go if they're overwhelmed and need a break?

Are indoor areas a comfortable temperature? Are there shaded areas outside?

Will I get a daily report on my pet?
How to Tell If Your Dog Likes Day Care
Your dog should come home from day care tired but happy. They should be relaxed and not stressed after playing all day.
When you drop off your pup, their tail should be wagging and they should be alert. That means they're excited to arrive and ready to play. They should be happy when they see and hear the other dogs and people.
If you have to coax your dog to go in, then it's probably not a good fit. You might find a different place they like better. Consider that day care might not be fun for your pet.
You know your dog best, so trust your instincts. It can be hard for your pet to be away from you. But they should have fun when they hang out with their canine buddies.
Show Sources
Photo Credit: Hero Images / Getty Images
SOURCES:
American Kennel Club: "Choosing a Daycare for Your Dog," "Alone Time for Dogs: How Much Is Too Much?" "5 Considerations When Choosing a Doggy Daycare," "Dog Boarding: What To Know & What To Look For When Boarding Your Dog."
The Humane Society of the United States: "Letting down the guard."
TexVet Pets: "Choosing a Boarding Facility."
RSPCA: "Choosing dog boarding kennels and daycare."
Professional Animal Care Certification Council: "Choosing a Pet Care Provider."
Support Dog Certification: "What You Need to Consider When Choosing a Dog Daycare?"